Probably the world's most affordable digital cutters.
Which is the right one for you?
Stack up to 25kg of printed media with synchronised delivery to the cutting table. Dual tools to cut and crease any shape. Unattended production for short to medium runs. FB9000PRO
Flatbed digital die-cutting for packaging and labels. Digitally cut and crease card and boards of any shape with one of the range of ColorCut flatbeds on up to 1000 microns FB575 FB775 FB1175, or up to 3000 microns for the FB1180T.
Blending sheet fed and flatbed technologies - SC5000/SC6000 and the NEW SC6500 crease as well as cut! Perfect for both digital-die cutting & creasing of lightweight card – as well as kiss-cutting sheet labels.
Digitally cut any shape labels at up to 960mm/sec. Digital process means no more costly dies. QR code/Job Library retrieves associated cut files – even for mixed job batch sessions.
The compact ColorCut LCF215, is a roll label cutter & finisher that performs perfect contour cutting, lamination, matrix removal & slitting.
The innovative features of Intec's ColorCut Server Station will streamline the entire cutting process, increase workforce productivity, reduce costs – and increase profits
ColorCut – Accessories, parts, and label media
A full range of ColorCut accessories: cutting blades and blade holders, cutting mats and cutting strips, silencers, and even digital label media – all in stock and ready to ship the same day.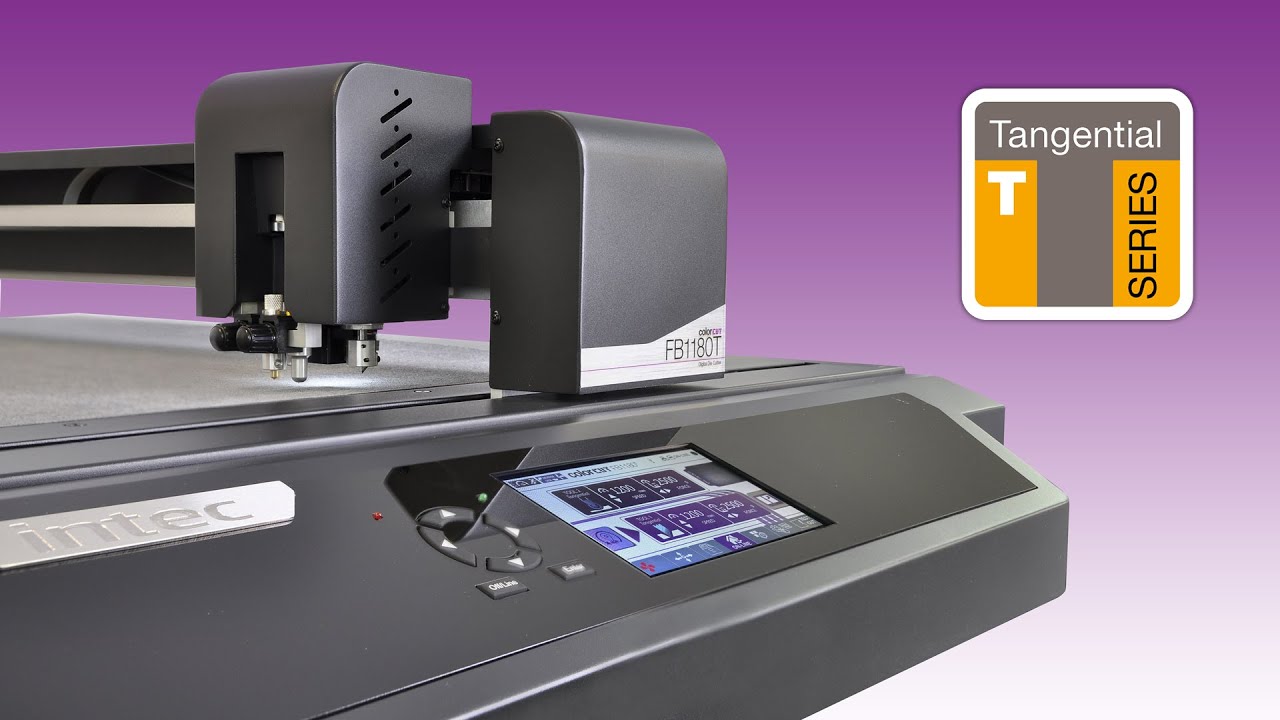 2:32
2:07
Overview
New T-Series high-productivity flagship B1+ flatbed cutter, now faster with greater cutting and creasing forces!
In greater detail
The largest cutting table in the range, the FB1180-T handles sheets up to B1+ (800mm x 1100mm), with a maximum effective cutting area of up to 680mm x 1020mm, ideal for cutting larger B1 sheets from inkjet or printing press applications.
The FB1180-T incorporates an enhanced quad tool cutting head with a ball creaser, tangential creasing wheel and drag/swivel and tangential cutting tools delivering up to 2,500gf pressure for creasing and cutting, this flatbed is unmatched in it's price point, which opens up new possibilities through its ground breaking design. Users also benefit from the very latest in advanced high-speed servo motors for accurate, fast and productive cutting.
The flatbed cutter also comes with an upgraded registration system, making it great for multiple sheet cutting; the Vision3 CCD camera will auto find the position of each sheet. Its powerful 1100W fan delivers maximum sheet suction ensuring 4 x SRA3 sheets can be comfortably placed next to each other.